Shira Grayson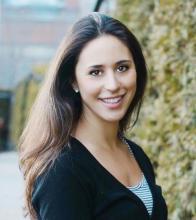 MPH Public Health Genetics
Areas of Interest:
Genetic epidemiology
Epigenetics & nutrigenomics
Developmental origins of health and disease
Ethical Legal and Social Implications (ELSI) of genetics
Profile:
Shira is an MPH genetics alum interested in the genetic, nutritional, environmental, and behavioral factors that influence disease risk and prevention. She received her B.S. in Biology and Global Health from the University of Wisconsin-Madison in 2014. Since then, she has worked at the University of Minnesota as a research assistant in the Department of Food Science and Nutrition, at two non-profit health organizations in Minneapolis coordinating health advocacy and education initiatives, and at the International Society for Stem Cell Research in Chicago.