Alice B. Popejoy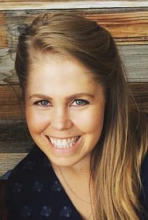 PhD Public Health Genetics
Education:
PhD in Public Health Genetics; Dissertation: Illumination at the Intersections of Genomics and Public Health: A Study of Opsins, SPurS, Cluster Machine, and Ancestry in Genomics
Areas of Interest:
Comparative evolutionary genomics
Photoreceptor gene families (opsins)
Race, ancestry, and genomics
Ethical, legal, social implications (ELSI) of genetics research
Profile:
Alice B. Popejoy, PhD in Public Health Genetics, has a B.A. from Hamilton College in Biology and French and earned a Certificate in Statistical Genetics from the departments of Statistics and Biostatistics at the University of Washington. Her research in Public Health Genetics is interdisciplinary across computational biology and bioinformatics, protein family evolution, statistical genetics, and bioethics. She is graduating in Autumn 2017 and will begin a postdoctoral scholar position with Dr. Carlos Bustamante in the Department of Biomedical Data Science at Stanford University.